Organic farming – Good reasons for getting started
The strong market growth shows that conversion to organics is definitely worthwhile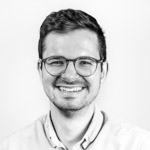 Andrin Pescatore, bio.insepcta AG
The demand for organic products is increasing. However, anyone who wants to convert should plan this well. It is worth contacting bio.inspecta.

Successfully converting one's own farm to organic farming depends on the individual situation and requires good planning. The strong market growth shows that conversion is definitely worthwhile. Anyone considering converting their farm should not hesitate to make use of bio.inspecta's advisory services.

Strong demand for organic meat and dairy products
Organic cattle farming promises good sales opportunities. The 2021 waiting periods for organic milk were abolished as of 1 February 2021. Demand is growing strongly. Processing meat is also in demand, as well as products from the beef programmes such as Natura-Beef and Bio-Weiderind. In general, please note: When converting milk, poultry and pig production, a contract must first be concluded with a buyer
Cereals and oilseeds are much sought after
A similar picture is emerging in crop production. The domestic share of cereals and oilseeds is increasing – demand is rising. There is a particular demand for Bio Suisse Bud certified producers of wheat, spelt, rapeseed and sunflowers. There is further demand for processed and fresh vegetables, with small quantities and specialities being sought above all. Agreements with buyers are essential. There is very high demand for berry crops, pears and apricots.
Standards create new markets
As of 1 January 2020, the Bio Suisse delegates have decided that purchased animals may only come from other organic farms. Male breeding animals are excluded from this. For the purchase of conventional female breeding animals, an exemption permit must be applied for. Until the end of 2019, Bio Suisse farms were allowed to supplement ten percent of the adult stock with conventional, uncalved breeding animals each year. This de facto closure is aimed at building up a well-functioning organic market. However, there is currently a very high demand for cattle, especially in dairy and suckler cow farming. In addition, organic rearing farms are being sought.
As of 1 January 2022, the Standards stipulate that ruminant feed must consist of 100 per cent Swiss Bud fodder. Due to this, large quantities of Bud-certified roughage as well as producers of feed wheat and grain legumes are being sought.
Marketing in conversion
Of course, there is the possibility of direct marketing for all conversion products. It is essential that sales of in-conversion products are secured through suitable buyers and contracts before conversion. In-conversion products must be marketed conventionally if no supply contracts are concluded. Some products such as grain legumes, meat and eggs can already be marketed at the Bud price during conversion. There is no conversion market for milk and potatoes. These products can only be supplied to the organic market after conversion has been completed.
Conversion phase is a learning phase
The conversion phase of the farm entails a lot of new things in terms of people, planning and production. Careful preparation is indispensable. Conversion to organic farming basically affects the entire farm and takes two years. Organic regulations must be fully complied with during conversion. Conversion in partial steps (gradual conversion) enables farms with permanent crops or pig and poultry farming to reduce the conversion-related risks to a minimum. Partial conversion of the farm is only possible under the Swiss Organic Farming Ordinance and only concerns permanent crops such as vines. The cantonal organic advisory services and the services of the organic inspection body are particularly helpful in this process. bio.inspecta operates a hotline for current and future customers, which is taken up well. Martina Schneider, a trained farmer and member of the hotline team, confirms: «Farm managers often call us some time before conversion to find out more. In this way, we can provide them with optimal support and clarify questions in a practical way.»
Organic farm assessment by inspection body
Another service offered by bio.inspecta is the organic farm assessment – a familiarisation check. The organic farm assessment reveals which adjustments are necessary on the farm for conversion to organic. In this process, the future organic farm manager is visited on the farm by an experienced organic inspector prior to conversion. During two to four hours, all questions and uncertainties arising from the simulated inspection situation are discussed and clarified. The bio.inspecta offer is free of charge and non-binding.
Be sure to register in time
By 31 August, before the start of conversion, the farm must be registered with the inspection body and the canton for direct payments in the following year.
Contributions per ha

| | |
| --- | --- |
| Special crops | 1600.- |
| Open farmland | 1200.- |
| Other eligible area | 200.- |
The organic contributions are already paid out during conversion. In addition, organic farms also receive contributions for extensive production (Extenso). To be included in next year's conversion, the farm must be registered with the Bio Suisse or Demeter label organisation by 30 November.